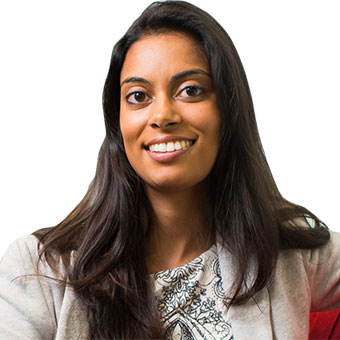 Crystal Kadakia
Millennial, Multi-Generation, and Modern Workplace Maven. Future of Work Expert
Why Crystal Kadakia?
Founder of Invati Consulting and a Millennial, she shows organizations what makes Millennials tick and how to attract, engage, and retain Millennial and Gen Z top talent
She shares actionable insights that dramatically shift perceptions on cross-generation collaboration and Millennial workplace behavior
She has been honored as a two-time TEDx Speaker and One to Watch by the Association of Talent Development
Fee Range:
(BELOW $10,000)
About Crystal Kadakia
Crystal is a lauded speaker, author, thought leader, and consultant for Millennials and Modernizing the Workplace. As the founder of Invati Consulting, her expertise is in driving the connection between Millennial behavior to the design of engaging, productive modern workplaces. She is honored to be a two-time TEDx speaker and Power 30 Under 30 award recipient. Her consulting clients and keynote speaking audiences have included corporations, conferences, and universities such as UPS, Wells Fargo, FedEx, ATD, SHRM, Monster.com, General Dynamic Electric Boat and University of the Pacific.
In a nutshell: because of the advent of digital technology, what we know as workplace culture today is ripe for disruption. Millennials are a leading indicator of the changes that need to be made to remain competitive in the future. It's not just about generational diversity, it's about going to the source to understand what is needed for modern talent engagement.
As a result of her unique philosophy, Crystal is considered a prime resource and requested by executives and organizations to leads projects in her areas of expertise: diagnosing modern talent turnover issues, attracting Millennial/Gen Z talent, increasing modern talent retention and engagement, and leading strategic application of Millennial insights. She speaks, she offers training, and she consults to solve the biggest human capital trend of our next decade.
Crystal is also a blogger for the Huffington Post and the Human Capital Institute, as well as a Certified Coach. Her educational background includes a degree in Chemical Engineering and a career as an engineer and training manager for a Fortune 100 company.
Flipping the Script on Millennials: Changing the Generation Discussion
Millennials are the most analyzed, researched, talked about generation because of the advent of the internet and social media. Yet, the majority of the conversation centers around negative, difficult to implement concepts not based on the real changes and drivers behind the generation. In this session, Crystal not only brings the right foundation about Millennials, she head on addresses common complaints about Millennials. By the end of this session, attendees often comment they have an entirely new perspective on how to work with Millennials.
YOLO and Millennial Entrepreneurs
In the fight for top talent today, corporations often miss the biggest competitor: the potential candidates themselves. 72% of high school students say they want to be entrepreneurs someday. In this session, Crystal brings to life this trend and what corporations can do to build an "intra-preneurship" culture.
Dealing with Sticky Millennial Generational Conflicts
Often, managers and co-workers don't understand where Millennials are coming from in common situations like asking for promotion, raises, workplace flexibility, and feedback. In this practical session, learn what works on an everyday level with younger generations and the reasons behind their approach.
It's My Generation: Strategies to Engage Millennials
The Millennial generation has trended as the most likely to job-hop in comparison to other generations. While this is a debatable trend, the ability for an organization to engage new hires in their first year is critical. In this session, attendees learn the top strategies to engage Millennials from Day 1, as well as common mistakes companies make.
Articles
Bio and Topics
Speaker Intro