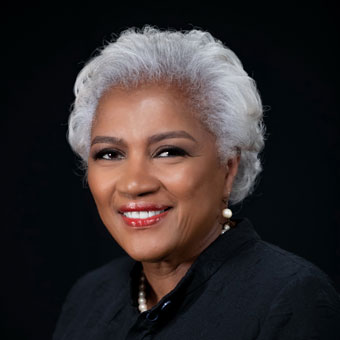 Donna Brazile
Veteran Democratic Political Strategist, Syndicated Columnist & Author
Why Donna Brazile?
A highly-regarded Democratic political strategist who discusses the importance of language and civility in modern-day politics
She offers an insider's look at the status of women in politics, including forecasts on what we can expect in the future
With a refreshingly candid delivery style, she provides an eye-opening look at the political landscape
Fee Range:
(PLEASE INQUIRE)
About Donna Brazile
Veteran Democratic political strategist Donna Brazile is an adjunct professor, author, syndicated columnist, political commentator, Vice Chair of Voter Registration and Participation at the Democratic National Committee, and former chair of the DNC's Voting Rights Institute. Last, but never least, she is a native of New Orleans.
Aside from working for the full recovery of her beloved New Orleans, Brazile's passion is encouraging young people to vote, to work within the system to strengthen it, and to run for public office.
Author of the best-selling memoir Cooking with Grease: Stirring the Pots in American Politics, Brazile is an adjunct professor at Georgetown University, a syndicated newspaper columnist for United Media, a columnist for Ms. magazine and O, the Oprah magazine, and an on-air contributor to CNN and ABC, where she regularly appears on This Week. She is also the founder of Brazile & Associates LLC, a general consulting, grassroots advocacy, and training firm based in Washington, DC.
In August 2009, O chose Brazile as one of its "20 Remarkable Visionaries" for the magazine's first-ever O Power List. In addition, she was named among the "100 Most Powerful Women" by Washingtonian magazine, the "Top 50 Women in America" by Essence magazine, and received the Congressional Black Caucus Foundation's highest award for political achievement.
Weapons of War: The importance of words and civility in modern-day politics
Women Warriors: The status of women in politics and what we have to look forward to?
The Politics of Disparity: Who has more, who has less, and why?
Articles
Bio and Topics
Speaker Intro