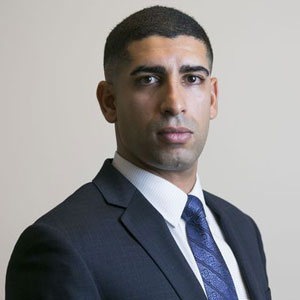 Florent Groberg
Inspiring Medal of Honor Recipient, LinkedIn Spokesperson & Director of Veterans Outreach at Boeing
Why Florent Groberg?
Celebrated military hero who demonstrated ultimate selflessness when he tackled a suicide bomber in Afghanistan in 2012, saving countless lives
His bravery and actions earned him awards and decorations including the Medal Of Honor, the nation's top award for valor in combat
With valuable life lessons on leadership, teamwork and sacrifice, he inspires audiences to see opportunity in even the most adverse conditions
Fee Range:
($10,001 - $20,000)
About Florent Groberg
Florent "Flo" Groberg shares stories of bravery and leadership from combat that inspire audiences to see the opportunity in challenging environments and to find the strength to complete any mission.
On August 8, 2012, Florent was on his second deployment to Afghanistan when he made a split-second decision that prevented greater catastrophe and changed his life forever. His selfless display of courage in tackling a suicide bomber while protecting a command team on that fateful day earned him the Medal of Honor, and the distinction as the 10th living American to receive the nation's top award for valor in combat since the attacks on Sept. 11, 2001. Today, as LinkedIn's veteran's program spokesperson and director of veterans outreach at Boeing, he is a powerful and prominent advocate for veterans' issues.
Armed with indispensable takeaways on overcoming adversity and powerful insight on dynamic leadership, teamwork and sacrifice, Florent reveals how the people and experiences throughout his life influenced his heroism. With gratitude, gallantry and reverence, he inspires audiences to go above and beyond the call of duty, find the positive in the negative, and summon their absolute best in the most adverse conditions.
Opportunities Earned & Leadership Learned: An American Hero's Journey
A true American hero as humble as he is grateful, Medal Of Honor recipient Florent Groberg shares with audiences an unforgettable story and equally remarkable lessons on leadership, selflessness, and the importance of setting goals and earning what you wish to achieve. With a palpable passion for sharing his journey to inform and inspire others, Groberg discusses the key stages and people in his life, and how they shaped him to be the leader, advocate and role model he is today, including: growing up abroad and lessons from his mother and adoptive father; his immediate, innate desire to take action as he watched the 9/11 terrorist attacks unfold from his college dorm room; his patient and persistent efforts to enlist in the U.S. Army; and his selfless actions in Afghanistan that earned him the nation's top award for valor in combat.
Overcoming Adversity - Finding A Positive In A Negative Situation
After three years in and out of the hospital and losing the majority of his leg, Groberg came to the realization that he was no longer fit to serve as an infantry officer. He discusses how he learned to deal with his demons early on and embrace the support from friends, family and other wounded warriors, resulting in him overcoming significant challenges and finding success on different paths. Groberg also discusses his role as an advocate for veteran's issues.
Articles
Bio and Topics
Speaker Intro