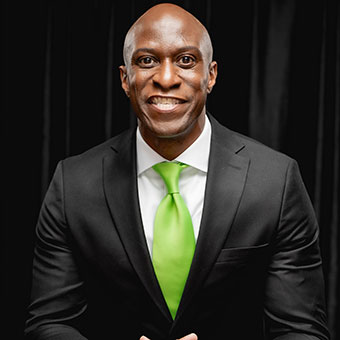 Kaplan Mobray
Executive Coach, Best-Selling Author, and Personal Branding Expert
Why Kaplan Mobray?
You want an inspiring roadmap to better manage your life and navigate your career with a focus on successful outcomes.
Your audience will master the key skills for success through his series of career and life improvement tools known as the "10K's."
He is known to deliver "life-changing" presentations.
Fee Range:
($10,001 - $20,000)
About Kaplan Mobray
The modern leader needs a range of skills and traits to be successful in today's demanding, ever-evolving business environment. When audiences need to know the latest on how to develop these tools for success in life and work, they turn to Kaplan Mobray, one of the nation's leading career experts and an authority on personal branding.
Mobray is an award-winning author, career consultant, and motivational speaker with more than 15 years leading corporate marketing, advertising, and brand development initiatives for Fortune 500 companies. He also serves as a consultant and brand coach to professional athletes.
His insights into how to develop inspired leaders, increase employee engagement and productivity, and unify diverse workforces for greater teamwork and company growth make him one of the most dynamic, in-demand business speakers today.
Mobray's life-changing presentations bring audiences up to a higher plane of thinking on such topics as personal branding, leadership, networking, and public speaking. Through his seminars and best-selling book, The 10Ks of Personal Branding, he provides real strategies for real results by making the connection between your personal brand and your life outcome. His second book, The 10Ls of Leadership, will be published in 2013.
Mobray, who has been featured on CNN, CBS, NBC, FOX, BET, Ad Age, and Businessweek, electrifies and empowers audiences with his high energy and creative insight, inspiring immediate action to accelerate personal and professional achievement. His unique, innovative, and thought-provoking theories have been embraced by companies worldwide as essential, effective tools for success in today's complex workplace. A natural performer, he is known to incorporate saxophone riffs at the start of his motivational presentations to set an immediate experience in any room.


The 10Ks of Personal Branding
Have you ever wondered when you leave a room what people say about you? Do you think it would be consistent with who you think you are? Through such interactive topics as the 6-second elevator speech, establishing recall, and effective networking tips, this presentation will offer case studies and exercises to help you discover your personal brand, how to manage it for success, and, in turn, uncover your true purpose in life.


The 10Ls of Leadership
Anyone can call themselves a leader, but true leaders have the confidence to stand alone, the courage to make tough decisions, and the compassion to listen to the needs of others. In this in-depth presentation, business speaker Kaplan Mobray explains how to unleash the power of genuine leadership.


The 10Ns of Networking
Networking and relationship building are undoubtedly the most effective means to get a job, promote your brand, or help someone find opportunity. But too often we make the mistake of not planning for the opportunity we want to achieve and thus networking "happens" by default. Kaplan Mobray shares his insights into how to be deliberate with your networking plan to achieve extraordinary outcomes.


The 10Ps of Public Speaking
This workshop from motivational speaker Kaplan Mobray explores ten effective strategies for success in public speaking. The principles are designed to draw on your strengths and give you tools to alleviate your most common public speaking fears. Through effective techniques such as "the power of the pause", and "using your eyes to gain confidence" you will walk away with a proven approach to dramatically improve your public speaking capabilities.
Articles
Bio and Topics
Speaker Intro