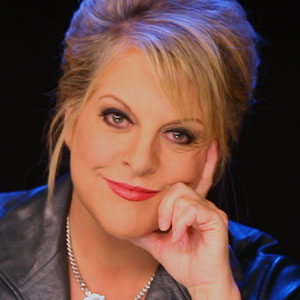 Nancy Grace
Anchor of CNN's Nancy Grace and Prominent Victims' Rights Advocate
Why Nancy Grace?
Grace spent a decade as a prosecuting attorney in Atlanta, GA before becoming a nationally known victim's rights advocate and host of CNN's Nancy Grace.
She engages audiences with her passionate devotion to justice and offers her take on the top legal cases and controversies in today's headlines.
She has appeared on The Oprah Winfrey Show, The View, The Today Show, Good Morning America, and Larry King Live.
Fee Range:
(PLEASE INQUIRE)
About Nancy Grace
An outspoken, tireless advocate for victims' rights and one of television's most respected legal analysts, Nancy Grace is the powerful force behind CNN Headline News' (HLN) top-rated Nancy Grace.
A former prosecutor with an unparalleled record of success, she has appeared on The Oprah Winfrey Show, The View, The Today Show, Good Morning America, Dr. Phil and Larry King Live, among others, dispensing her firebrand take on the modern justice system. In addition, she was a highlight and fan favorite of Dancing with the Stars: Season 13, finishing in the competition's coveted Top 5. All of her earnings from the show went to support the National Center for Missing and Exploited Children.
Grace initially came to television from the Atlanta Fulton County District Attorney's Office where she served for a decade as special prosecutor of felony cases involving serial murder, rape, child molestation and arson. She gave up plans to become an English professor after the murder of her fiancé. She enrolled in law school, eventually becoming a prosecutor and an outspoken victims' rights advocate.
The recipient of several American Women in Radio & Television Gracie Awards for her Nancy Grace Investigates prime-time report on Court TV, she has also been recognized for her ongoing support and advocacy of victims' rights.
Grace is also the New York Times best-selling author of Objection!: How High-Priced Defense Attorneys, Celebrity Defendants, and a 24/7 Media Have Hijacked Our Criminal Justice System; Death on the D-List; and The Eleventh Victim.


Nancy Grace: Where Heart Meets Tenacity
Nancy Grace is the epitome of complete honesty with what she thinks and how she feels about today's most news-worthy legal cases. A legendary Atlanta prosecutor, undefeated at trial, Nancy shares her powerful, personal story of how tragedy catapulted her into the legal profession, her lifelong, tenacious passion for victim's rights and how becoming a mom of twins well into her forties is the single most fulfilling and blessed reward of her life.

Articles
Bio and Topics
Speaker Intro