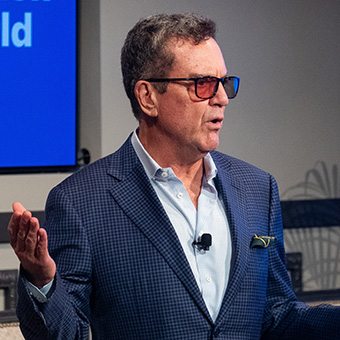 Rich Karlgaard
Publisher, Editor-at-Large and Global Futurist, Forbes, Economic Leader, Entrepreneur & Author
Why Rich Karlgaard?
Respected forecaster of how current events, from the 2016 elections to Brexit, will affect business and the economy
As a journalist, private investor, TV commentator and board director, he offers firsthand perspective on trends driving the global marketplace
An expert on corporate culture, he reveals how organizations can attain a sustainable competitive advantage in a fast-changing world
Fee Range:
($20,001 - $30,000)
About Rich Karlgaard
One of the most influential figures in the technology, economic and business worlds, Rich Karlgaard helps you see the global marketplace with new eyes.
At the vanguard of developments in the global economy, politics, business and technology, Rich is the thought leader that Fortune 500 companies, small businesses, and national associations turn to for a reliable roadmap of what's to come. Drawing from his roles as a Silicon Valley-based publisher, journalist, investor and board director, Rich's business consultant-like approach helps audiences gain a practical understanding of the events that are changing their world and the imminent disruption ahead—from tech to Trump—and the impacts on business and industry. Rich is also a regular panelist on "Forbes on Fox," the author of two celebrated business books on healthy organizations, and a past recipient of Ernst & Young's Entrepreneur of the Year award.
In his biweekly Forbes column, "Innovation Rules," he provides an honest and incisive assessment on a broad range of emerging issues. Rich brings the same candor and vision to his bespoke and wildly thought-provoking presentations, as he reveals a prospective and comprehensive analysis of the disruptive forces that are reshaping your industry. Rich equips today's leaders with timely insights that help them adapt to the era of technological and political disruption and thrive in an increasingly competitive global marketplace.
2017 – Trump's Economy and Yours

The 2016 U.S. presidential election rocked America and the world. Now the aftermath begins – and so do the many economic and investment questions.

Will President Trump and his Republican majorities in the U.S. Congress govern from the ideological right or the radical center? Are we headed for an era of limited or expanded government? What will this mean for tax, regulatory, trade and monetary policies?

Trump has promised tax cuts and major regulatory reforms. But which taxes, and what rates can we expect? Which dozen Obama-era regulations are most in jeopardy? Will tensions emerge between Trump's stated goal of $1 trillion in new infrastructure investments clash with House Speaker Ryan's hopes for a smaller federal government?

The 2017 to 2020 period will be unlike any the U.S. and global economies have seen. The stakes are high. Don't miss Karlgaard's informed forecasts.

Four Megatrends and Three Best Practices That Will Shape Your Business Future

Predicting the future is easy … getting it right is the hard part. A common mistake among business, investment and government leaders is to overestimate change in the short run (less than two years), but badly underestimate it the long run (five years or more).

Forbes editor-at-large, global futurist and author of the magazine's featured Innovation Rules column, Rich Karlgaard, cuts through the clutter. He forecasts the business and technology world as it is likely to unfold over the next two, five, and ten years. Karlgaard is uniquely positioned at the intersection of business, economic, innovation, and technological trends, and as such, he is able to see, weigh, and articulate the variables that will shape the future.
Articles
Bio and Topics
Speaker Intro