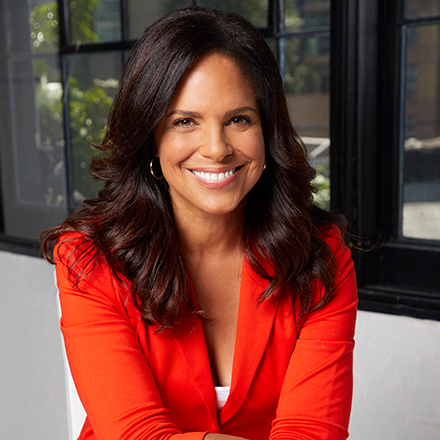 Soledad O'Brien
Award Winning Journalist, Documentarian, News Anchor & Producer
Why Soledad O'Brien?
Award-winning broadcast journalist and creator of the critically acclaimed documentary, Black in America
Dedicated to exposing the world to critical global issues, she's shined a spotlight on major events, including the aftermath of the Haitian earthquake and Hurricane Katrina
A champion for diversity, known for taking a challenging look at the often divisive issues of race, class, wealth, poverty and opportunity
Fee Range:
(PLEASE INQUIRE)
About Soledad O'Brien
Leading media journalist, Soledad O'Brien has established herself as one of the most recognized names in broadcasting, bringing wider exposure to some of the most important issues and stories in the world through her coverage of breaking news, critically-acclaimed documentaries and empowering initiatives. Her critically acclaimed documentary series, Black in America and Latino in America are among CNN's most successful domestic and international franchises.
In 2013, she launched Starfish Media Group, a multiplatform media production and distribution company, dedicated to uncovering and producing empowering stories that take a challenging look at the often divisive issues of race, class, wealth, poverty and opportunity. Her projects include her documentary series, Latino in America 2, which won the distinguished Cine Award for documentaries and she is currently touring to promote Black in America. O'Brien is also a special correspondent for Al Jazeera's flagship show, America Tonight , a correspondent for HBO's Real Sports with Bryant Gumbel, and a contributing editor to the PBS NewsHour.
O'Brien has earned numerous Emmy awards for her reporting on the earthquake in Haiti, her coverage of the 2012 Presidential Election, and her work on "Kids on Race: The Hidden Picture." Her coverage of Hurricane Katrina earned her and CNN a Peabody award and she earned another for her coverage of the BP Gulf coast oil spill.
O'Brien has also been selected to apply her wealth of expertise as a member of the RAND Corporation's 2015 Board of Trustees.
An authentic, engaging speaker, she offers a behind-the-scenes look at her work and inspiring, empowering narratives about the importance of making a difference and her commitment to exploring and uncovering the most important issues and stories in the world.
Diversity: On TV, Behind the Scenes and in Our Lives
In an ever-changing society more emphasis is placed on the diversity of America's people, it is important to recognize and discuss the growing numbers of immigrants to this country, whether the topic is diversity in the media, education for minorities, women in our workplaces, or mentoring.
An Evening with Soledad O'Brien: Her Life Stories
Good luck and hard work can take you a long way, and in the case of Soledad O'Brien, good fortune was only a part of the winning combination that has led to her success. Driven by a desire to be the best in her profession, O'Brien has excelled by pushing her own limits. O'Brien emphasizes her belief in a strong work ethic and a never-give-up attitude.
Award winning journalist and documentarian Soledad O'Brien brings a much needed conversation about race and justice in America to your campus community. The shooting death of Michael Brown in Ferguson Missouri sparked a debate in the United States about the relationship between law enforcement officers and African Americans. Soledad will take a look behind the scenes and behind the headlines to explore the often divisive issues of race, class, wealth, poverty and opportunity. By sharing the stories of individuals whose lives have been forever changed by their experience in the criminal justice system, as well as current data on racial disparity in enforcement efforts, Soledad hopes to empower audiences to affect social change in their communities and our nation as a whole.