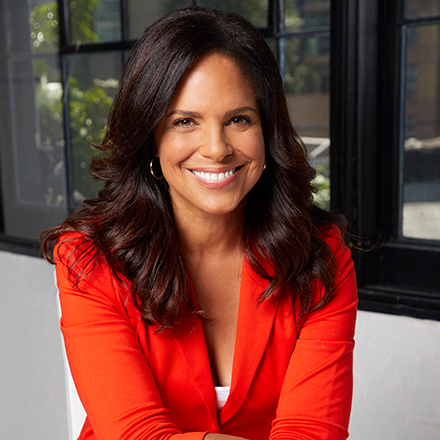 Soledad O'Brien
Award Winning Journalist, Documentarian, Entrepreneur & Philanthropist
Why Soledad O'Brien?
Award-winning broadcast journalist and creator of the critically acclaimed documentary, "Black in America"
Dedicated to exposing the world to critical global issues, she's shined a spotlight on major events, including the aftermath of the Haitian earthquake and Hurricane Katrina
A champion for diversity, known for taking a challenging look at the often divisive issues of race, class, wealth, poverty and opportunity
Fee Range:
(PLEASE INQUIRE)
About Soledad O'Brien
Award winning journalist, Soledad O'Brien has established herself as one of the most recognized names in broadcasting, bringing wider exposure as storyteller to some of the most important issues and stories in the world through her coverage of breaking news, and critically-acclaimed documentary series, Black in America and Latino in America.
In 2005 O'Brien and her husband started PowHERful Foundation, a non-profit organization that helps bridge the gap of opportunities for young minority women from low-income families to attend college.
Soledad's memoir The Next Big Story: My Journey through the Land of Possibilities chronicles her biggest reporting moments and how her upbringing and background have influenced these experiences and was published in 2010.
O'Brien has earned numerous Emmy awards for her reporting on the earthquake in Haiti, her coverage of the 2012 Presidential Election, and her work on "Kids on Race: The Hidden Picture." Her coverage of Hurricane Katrina earned her and CNN a Peabody award and she earned another for her coverage of the BP Gulf coast oil spill.
In 2013, she launched Starfish Media Group, a multiplatform media production and distribution company dedicated to uncovering and producing empowering stories that take a look at the often divisive issues of race, class, wealth, poverty and opportunity. O'Brien is also a correspondent for HBO's Real Sports with Bryant Gumbel, and a contributing editor to the PBS NewsHour.
O'Brien is also the new host of the Sunday morning syndicated political show Matter of Fact, which focuses on alternative views on top issues.
An engaging storyteller, she offers a behind-the-scenes look at her life, work, and inspiring, empowering narratives by bringing a voice and sharing untold stories in the world.
Diversity: On TV, Behind the Scenes and in Our Lives

O'Brien delves into diversity in America, offering stories from her personal life and career experiences as she touches on a range of topics such as diversity in media, education, healthcare and the workforce.

An Evening with Soledad O'Brien: Her Life Stories

From news anchor to entrepreneur, philanthropist and diversity advocate, O'Brien shares her stories about how her desire to be the best in her profession, a strong work ethic, and a never-give-up attitude has led her to excellence.

Matter of Fact

As host of the weekly political magazine show 'Matter of Fact,' Soledad O'Brien expands the conversation around the day's most important issues by engaging in a more inclusive dialogue with decision makers who are shaping the new American political landscape.

On stage, she discusses her commitment to introducing the under-voiced into the national conversation, and offers powerful insights on the impact of highlighting these perspectives on individuals across the country. As Soledad reflects on her goal to bring the news above the noise created by the traditional media cycle, audiences take away a renewed outlook on the issues and dialogue that matter most to them.