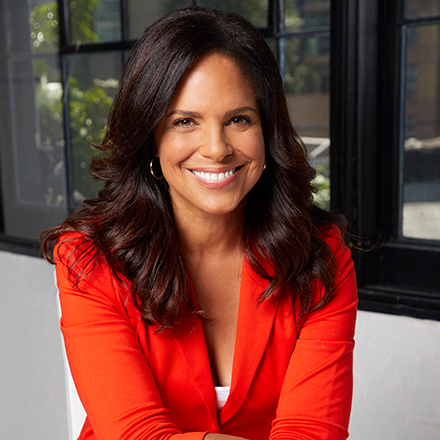 Soledad O'Brien
Award Winning Journalist, Documentarian, News Anchor, and Producer
Why Soledad O'Brien?
Soledad O'Brien is one of the world's most renowned, respected and accomplished broadcast journalists.
A former CNN anchor, O'Brien is a mentor for underprivileged young women and a champion for diversity in media, education and the workplace.
Founder of her own production company and contributor for Al Jazeera America, O'Brien will challenge your audience to move beyond obstacles and embrace new frontiers.
Fee Range:
(PLEASE INQUIRE)
About Soledad O'Brien
Soledad O'Brien is an award winning journalist, documentarian, news anchor, and producer. O'Brien was the originator of Black in America and Latino in America. In June 2013 she launched Starfish Media Group, a multiplatform media production and distribution company, dedicated to uncovering and producing empowering stories that take a challenging look at the often divisive issues of race, class, wealth, poverty and opportunity, through personal stories. Starfish Media Group continues to produce Black in America for CNN. O'Brien is a correspondent for HBO's Real Sports with Bryant Gumbel, and a Special Correspondent for Al Jazeera America Tonight.

In 2011 O'Brien won an Emmy for "Crisis in Haiti Report" on Haitian orphanages, following the massive earthquake. In 2013, she won Emmy's for her coverage of the 2012 Presidential Election and her work on "Kids on Race: The Hidden Picture." Her coverage of Hurricane Katrina earned her and CNN a George Foster Peabody award. She also received another Peabody award for her coverage of the BP Gulf coast Oil Spill. Her reporting on the Southeast Asia tsunami garnered CNN an Alfred I DuPont award.
O'Brien's critically acclaimed documentary series, Black in America and its follow-up Latino in America are among CNN's most successful domestic and international franchises. In 2013 Latino in America 2, the story of a Latina boxer who dreams of Olympic glory, won the celebrated Cine Award for documentaries. In 2013, O'Brien joined Harvard University as a Distinguished Fellow and was appointed to the Board of Directors of the foundation for The National Archives.
In the wake of Hurricane Katrina, O'Brien and her husband Brad created a foundation to help disadvantaged young women get to and through college. In 2013 they awarded scholarships to 25 deserving young women.
Diversity: On TV, Behind the Scenes and in Our Lives

In an ever-changing society in which more and more emphasis is placed on the diversity of America's people, it is important to recognize and discuss the growing numbers of immigrants to this country. Whether the topic is diversity in the media, educational opportunities for minorities, women in our workplaces, or mentoring, she speaks as a true citizen of the world.
An Evening with Soledad O'Brien: Her Life Stories

Good luck and hard work can take you a long way, and in the case of Soledad O'Brien, good fortune was only a part of the winning combination that has led to her success. Driven by a desire to be the best in her profession, O'Brien has excelled by pushing her own limits. Touching on her secrets to a successful career, O'Brien emphasizes her belief in a strong work ethic and a never-give-up attitude.