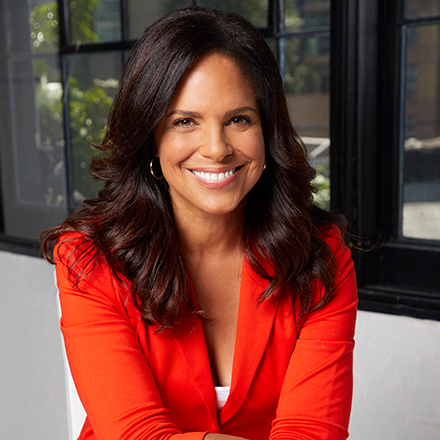 Soledad O'Brien
Award Winning Journalist, Documentarian, Entrepreneur & Philanthropist
Why Soledad O'Brien?
Award-winning broadcast journalist and creator of the critically acclaimed documentary, "Black in America"
Dedicated to exposing the world to critical global issues, she's shined a spotlight on major events, including the aftermath of the Haitian earthquake and Hurricane Katrina
A champion for diversity, known for taking a challenging look at the often divisive issues of race, class, wealth, poverty and opportunity
Fee Range:
(PLEASE INQUIRE)
About Soledad O'Brien
Through the power of storytelling, Soledad O'Brien brings a fresh perspective on diverse and contemporary issues to foster change in your own community or organization.
Soledad has established herself as one of the most recognized names in broadcasting by telling the stories behind the most important issues, people and events of the day. A champion of diversity, she gives voice to the underserved and disenfranchised through her Emmy-winning reporting and acclaimed documentary series, "Black in America" and "Latino in America."
With eloquence and a measured ability to make often-divisive issues such as race relations, social inequality and mass incarceration accessible to all, she moves audiences to delve deeper into the headlines that shape our lives, outlooks and daily interactions.
On stage, Soledad draws from her life and career to stimulate thoughtful conversation on the roles we each play within our communities and organizations, leaving audiences with memorable takeaways on the power of individuals and companies to make meaningful and lasting change.
Diversity: On TV, Behind the Scenes and in Our Lives

O'Brien delves into diversity in America, offering stories from her personal life and career experiences as she touches on a range of topics such as diversity in media, education, healthcare and the workforce.

An Evening with Soledad O'Brien: Her Life Stories

From news anchor to entrepreneur, philanthropist and diversity advocate, O'Brien shares her stories about how her desire to be the best in her profession, a strong work ethic, and a never-give-up attitude has led her to excellence.

Matter of Fact

As host of the weekly political magazine show 'Matter of Fact,' Soledad O'Brien expands the conversation around the day's most important issues by engaging in a more inclusive dialogue with decision makers who are shaping the new American political landscape.

On stage, she discusses her commitment to introducing the under-voiced into the national conversation, and offers powerful insights on the impact of highlighting these perspectives on individuals across the country. As Soledad reflects on her goal to bring the news above the noise created by the traditional media cycle, audiences take away a renewed outlook on the issues and dialogue that matter most to them.