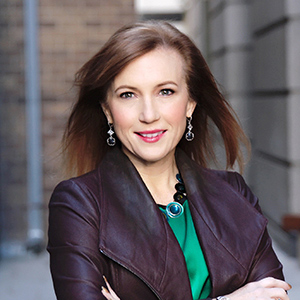 Theresa Payton
Former White House CIO & Cybersecurity Authority Starring on CBS's New TV Show, Hunted
Why Theresa Payton?
The first female White House CIO, with prior executive IT roles at Bank of America and Wells Fargo, she offers insider expertise for private and public sector organizations
One of America's most respected authorities on Internet security, data breaches, fraud mitigation, and technology implementation
She stars as Head of Intelligence on CBS's new TV show, "Hunted"
Fee Range:
($10,001 - $20,000)
About Theresa Payton
As the star of the new CBS TV series, "Hunted," Theresa Payton identifies emerging trends and techniques to help combat cyber threats, from the impact of the Internet of Things to securing Big Data.
The first female to serve as White House chief information officer, Theresa is one of America's most respected authorities on Internet security, data breaches and fraud mitigation. With real-world strategies and solutions, she helps public and private sector organizations protect their most valuable resources.
Drawing from her experience as a veteran cybercrime fighter and entrepreneur of her successful and rapidly-growing cybersecurity firm, Fortalice, Theresa masterfully blends memorable anecdotes with cutting-edge insights to heighten awareness of the perils of our uber-connected world. As she delves into the cyber-underworld and the new kinds of threats that can lead to tomorrow's breaches and insider risks, she offers a proven blueprint for audiences to stay a step ahead with practical steps for thinking like the adversary, while managing cybersecurity risk.
Theresa's distinct approachability, combined with her visionary perspective and easy-to-implement strategies, effectively prepare audiences for success in the ongoing battle against cybercrime.
Big Data, Behavior Analytics, OSINT & the Internet of Things
Marketing databases, customer analytics, open source intelligence and behavioral patterns are easier to manage with big data—but are these data elements safe from hackers? What is the impact of new technologies, from Pokémon GO to the Internet of Things? Payton explains how to harness big data to achieve business goals while incorporating safeguards to fight cybercriminals and how the Internet of Things may be the driver of global change.
Combating Cybercrime in the Financial Services Industry
Payton discusses why the financial services industry's investment in cybersecurity has not eliminated attacks and breaches, outlining three types of companies: those breached, those about to be breached, and those who don't know they've been breached. With solutions on how companies can better secure their assets, Payton helps avoid negative impacts to your bottom line with insights on and strategies to manage emerging trends.
From the Firing Lines to a Fireside Chat
As former White House CIO, Payton knows that protecting your organization's digital assets is the duty of the information and security officers. Delving into the cybercriminal underworld and emerging trends that can lead to tomorrow's breaches, she offers solutions for executives to energize their organization in enhancing their security posture.
Protecting Your Enterprise & Securing Your Brand Online
Payton shares practical steps to think like the adversary, emerging security threats facing businesses, the latest developments in corporate safeguards for intellectual property, and solutions to stop cybercriminals, including combating insider threats.