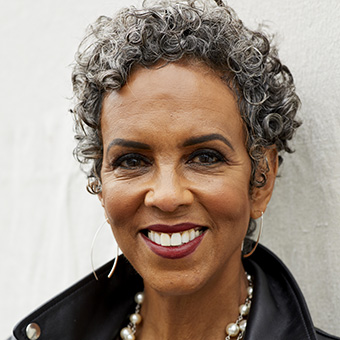 Fredrika Newton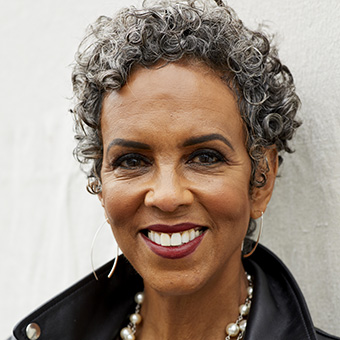 Fredrika Newton
Activist and head of the Dr. Huey P. Newton Foundation
Fredrika Newton, the daughter of activists and former member of the Black Panther Party, says she learned how to march before she learned how to walk. Activism has always been in her blood, but no one was more surprised than her the day that Black Panther Party co-founder, Huey P. Newton, showed up at her parents' home for lunch.
Her mother, a Jewish housing activist and real estate agent for the Party, invited Huey over when Fredrika was home from college. During their brief exchange at the dining room table, both Fredrika and Huey's lives would change forever.
Fredrika's vivid stories of her time in the Black Panther Party are incredible and inspiring. She worked side-by-side with Party members to support many of its community "Survival Programs" including the Oakland Community School, the Free Breakfast Program for Schoolchildren, and voter registration drives. After serving in the Party for a few years, she left to return to her educational pursuits. Several years later, Fredrika and Huey reconnected and began their marital journey of revolutionary love.
Through the Black Panther Party and like every member of it, Fredrika lived a life of service and activism in the name of love for her community. It was after Huey's murder that she co-founded the Dr. Huey P. Newton Foundation, and her activist spirit was renewed again. Like many others, she knew the true and accurate history of the Black Panther Party had never been told, and worse, was tarnished beyond recognition because of the FBI's now well-known and widely condemned counterintelligence program, COINTELPRO. In the wake of her husband's death, she started a nonprofit to counter the false narratives of the Black Panther Party presented by the FBI, police departments and media outlets.
The Dr. Huey P. Newton Foundation exists to preserve and promulgate the history, ideals, and legacy of the Black Panther Party. Through that mission and under Fredrika's stewardship, the Foundation developed multiple programs and events, as well as maintained and exhibited historical archives.
Most recently, the Foundation instituted a new public history vision. In February 2021, Fredrika had a street renamed for her late husband, Dr. Huey P Newton Way, in West Oakland. To commemorate the 55th anniversary of the founding of the Black Panther Party, on October 24, 2021, a bronze bust of Huey will go up on the street near where he took his last breath, and which bares his namesake. Under Fredrika's leadership, the Foundation is also working with the National Park Service to create a Black Panther Party Park Unit that will include several national historic landmarks and a visitor's museum.
Fredrika received her bachelors in Sociology at Wesleyan University and her RN degree at College of the Redwoods.
Tell us a little about your event and our team of experienced sales agents will get back to you with a customized list of speaker recommendations available for in-person and virtual speaking engagements.
NOTE: We cannot process requests for media interviews, podcasts or other non-speech related inquiries of a personal nature.