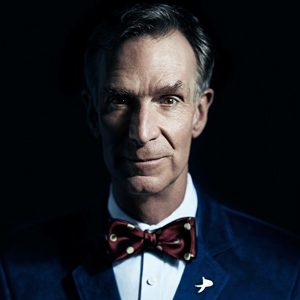 Bill Nye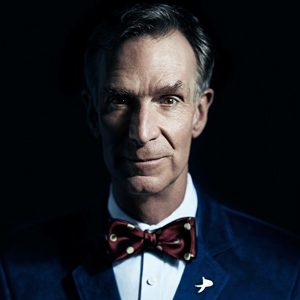 Bill Nye
Renowned Scientist, Climate Change Advocate, and host of Bill Nye, The Science Guy
Fee Range
$75,001 - $100,000
*
*
This specific fee falls within this range. Ranges are presented as a guideline only. Speaker fees are subject to change without notice. For an exact quote, please contact your Keppler Speakers representative.
Originally a mechanical engineer at Boeing, Bill was drawn to stand-up comedy. He combined both passions for science and humor by starring and creating inventive television shows on PBS and other networks. Bill's PBS/syndicated show Bill Nye the Science Guy won 18 Emmy Awards.
Bill often pops up on sit-coms and other comedy specials, appearing as his iconic self, where he advocates for science education. His message: thinking like a nerd will change your life and the world around you. Bill is fearless in his belief in when he covers controversial topics such as climate change, creationism, and vaccinations.  
If you're an adult and you choose not to believe in science, fine, but please don't prevent your children from learning about it and letting them draw their own conclusions. 
– Bill Nye
The latest show on Netflix, Bill Nye Saves the World, addresses these topics in a frank and fun manner. He also starred on science education shows on The Science Channel, Discovery Channel, and Planet Green. 
Bill has written two best-selling books on science, including Undeniable: Evolution and the Science of Creation in 2014 and Unstoppable: Harnessing Science to Change the World in 2015. 
Bill also is a proponent of space science research and exploration. He is the CEO of Planetary Society, the world's largest nonprofit space interest group. Planetary Society's latest project, the LightSail®, was a crowd-funded solar sail project that was launched in June 2019 on a SpaceX rocket. Bill aims for the Lightsail to become the first spacecraft in Earth orbit that is propelled solely by sunlight. He also helped design sundials that were carried by two Mars rovers vehicles, Spirit and Opportunity, on their explorative journeys across the Martian landscape.
Renowned Scientist, Climate Change Advocate, and host of Bill Nye, The Science Guy
Keywords:
STEM;
Emmy Award;
Author;
Planetary Society;
Climate Change
Tell us a little about your event and our team of experienced sales agents will get back to you with a customized list of speaker recommendations.